Tree care services are beneficial if you want your property's trees to be healthy, look their best, and avoid becoming a safety hazard. To prevent the tree from being harmed or exposed to disease and rot, tree trimming, tree pruning, and tree removal services should be performed appropriately and at the appropriate times.
Tree pruning improves the appearance of practically any landscape tree or shrub. Trees that have been cut well are more substantial and healthier. People and property are at risk from dead branches, unhealthy trees, and weak limbs. Trimming the trees on your lawn ensures that your family and friends are secure. 
When it comes to quality and economical best tree services in Bensalem, PA, Mercado's Landscaping and Tree Service take pleasure in being the number one option of residential and commercial property owners.
Below are some of the ways to get your tree pruned:
11 Ways To Get Tree Pruning Bensalem PA Services On Time
When trees remain dormant, ideally in late winter or early spring, it is the most incredible time to prune them before buds begin to form.
1) Crown Thinning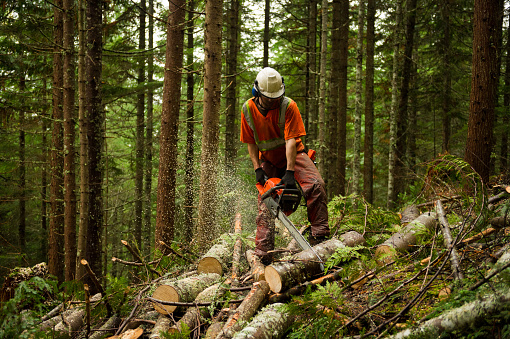 Thinning is the most common method of cutting mature trees. It increases air circulation and allows more sunlight. When a tree's crown is trimmed to remove specific live branches, the tree's overall density is reduced. Wind, ice, and snow can all strain some branches. Crown thinning tree service goal is not to change the size or shape of the tree and should therefore be done consistently.
Large trees should have end parts of limbs between 1 and 4 inches in diameter removed. To trim out beautiful landscape trees and fruit trees, cut smaller stems between 1/4 and 1/2 inch thick.
Hiring the best tree service companies in the Bensalem pa area is highly recommended for a timely and excellent job.
2) Crown Reduction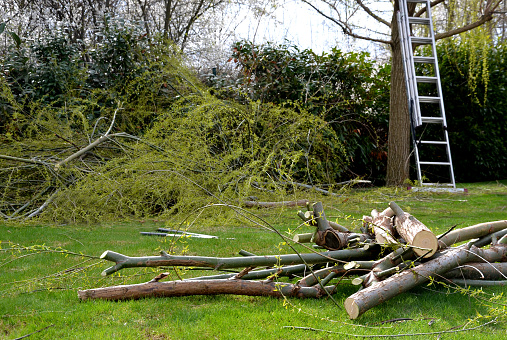 Crown reduction is a way to trim older and more mature trees. It would be best if you made Crown reduction in time to ensure proper circulation of sunlight.
It can aid in the strengthening of the tree and the promotion of new growth. While crown thinning diminishes branches and foliage, crown reduction is made to remove old growth and promote new growth. Smaller cuts are used, and more small crown is taken, leaving enough old-growth for support. Consider employing certified arborists for tree pruning or tree removal service for complete satisfaction.
3) Dead Pruning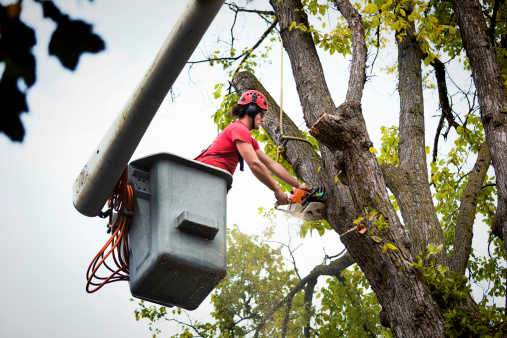 Having trees on your property necessitates the removal of dead, dying, or diseased branches, and you should do it in time. Dead cutting not only removes infected limbs but also improves the aesthetic of your trees, enhancing the curb appeal of your backyard and the entire house immediately. Removing all dead branches reduces the risk of harm to you and your property. Mercado's Landscaping and Tree Service is the one-stop firm if you need an excellent job removing and cutting the dead trees if you're in Bensalem, pa.
4) Crown Lifting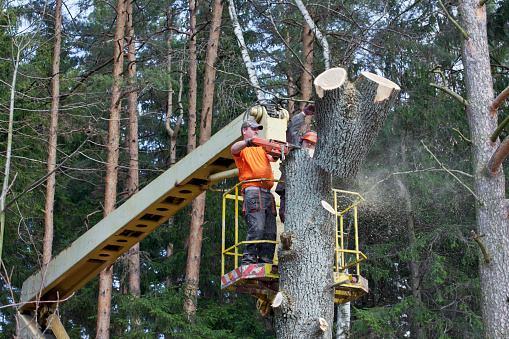 Crown lifting is one of the pruning techniques you should regularly use to remove low-hanging branches and limbs weighing down the taller branches. It's usually done for trees that lean over sidewalks, roadways, or even your house. However, because this procedure is detrimental to older and more mature trees, you should only do it on younger trees. Crown lifting allows your trees to blend in with the rest of your landscaping, resulting in a well-kept and healthy tree. Hire an efficient professional in his approach for tree work services in Bensalem, PA.
5) Pollarding
Pollarding is another pruning technique that involves removing all branches from the parent stem and leaving only a framework of secondary branches. Pollarding your trees begins while they are young and continues at regular intervals throughout their lifetimes—this method of trimming guarantees a continual supply of small diameter poles while preventing your tree from dying. Pollarding should only be carried out by a team of experienced professionals familiar with tree services.
6) Coppicing
Coppicing pruning is the practice of pruning trees or shrubs in such a way that they produce new shoots from the root, suckers, or stumps. It should be done to ensure that wood harvests are sustainable. The tree is pruned, and new shoots emerge. The shoots can grow for several years before being clipped, resuming the cycle. To encourage branches to sprout again from the stump, you should engage a tree company with experience in stump removal.
7) Remove Branches That Cut Across Each Other In The Canopy
The canopy is where most of the activity takes place, and it's here that you should avoid having branches cross each other. Removing branches in the crown of the tree will not only let more air and light into the canopy, but it will also allow your fruit to thrive. Tree cutting services are available at Mercado's Landscaping and Tree Services, stump grinding, block clearance, and crane service. You can also contact us to schedule an appointment for a free estimate.
8) Crown Restoration
This is one of the pruning methods required for trees that have been damaged by storms or vandalism. Branches are pruned back into smaller-than-normal lateral branches to keep the tree's original shape. Depending on the tree species being pruned and the degree of damage, crown repair specifications might vary significantly. If you observe a tree damaged by a storm, you should obtain crown repair service in Bensalem, PA, from a team with adequate expertise.
9) Canopy Cleaning
Canopy cleaning is the practice of removing all dead and damaged branches. This is the most extensive sort of tree cutting or pruning. It would be best to do it at any time and by educated professionals. Cleaning the tree crown strengthens the entire tree and protects the tree and surrounding property from future damage while improving the overall safety of your landscape.
10) Drop Crotching
This pruning method is also a thinning used to minimize the size of huge trees, and it entails cutting the main branch back to a large, lateral branch. Drop crotching necessitates a series of the tree cuts to prevent breaking the bark along with the leading truck and seriously hurting the tree.
11) Remove Branches That Are Growing Towards The Ground
Branches that grow toward the ground absorb more water, depleting the tree's energy source. As a result, any branch that looks to be growing at or near 90 degrees to the ground should be pruned.
TAKE AWAY
We have qualified tree care experts on staff at Mercado's Landscaping and Tree Service to give outstanding tree trimming services in Bensalem, PA. We use ropes, safety harnesses, and bucket trucks to prune trees safely and effectively safeguard their health. Don't hesitate to contact us for a quick response for tree trimming, pruning, or general tree care services.